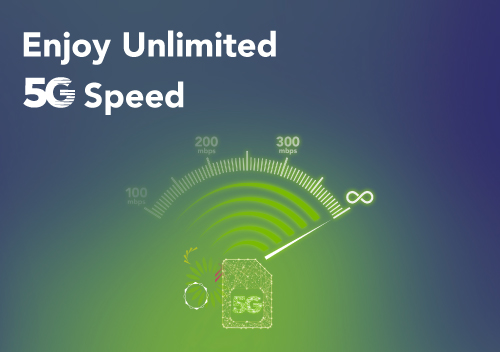 5G Home Premium Online SAR/
MO 
 373.75  
---
The download speed is Unlimited.
Unlimited 5G Data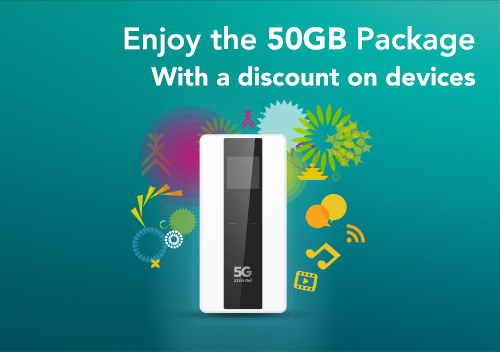 50 GB SAR/
MO
 113.85  
---
5G Support
50 GB Data
Discount on 5G devices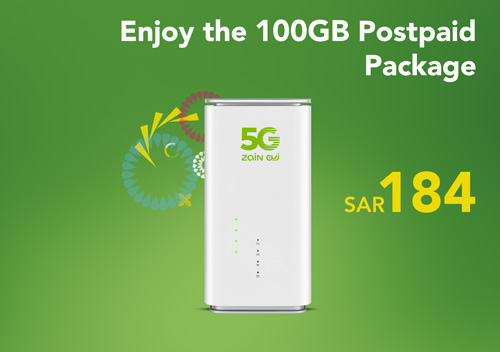 100 GB 5G SAR/
MO
 184 
---
5G support
100 GB Data
5G router with 24 months installment at 44.85 SAR monthly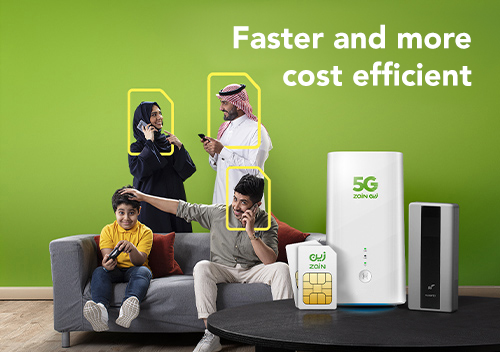 5G Family is here! SAR/
MO
 499 
---
Unlimited 5G data
Speed is unlimited
Router or MiFi upon signing a 24-month commitment contract.
Voice line SIM with features:

Unlimited social media + Unlimited local calls + 40GB
A second voice line SIM can be added with the same features for 115 SAR
5G Home Premium Packages:

After the first bill, subscription fees revert to the original price of 401.5 SAR


For all Packages:

24-month contract for postpaid
Please check your area's coverage with the 5G service through the coverage map before placing the order
(15% VAT inclusive)
Why 5G from Zain?
coverage
Zain's 5G enables breathtaking new experiences that will reshape our lives and the way we perceive things. Zain provides the most comprehensive coverage in Saudi Arabia with most advanced technology to benefit from the revolutionary 5G.
Our 5G network is available in:
Riyadh
Jeddah
Khobar
Diriyah
Buraydah
Tabuk
Neom Airport
Khamis Mushayt
Kharj
Dammam
Taif
Hufuf
Bisha
Rass
Najran
Madinah
Makkah
Dhahran
Abha
Unayzah
Bahrah
Hail
Sabya
Ahad Rifaydah
Jizan
KAUST (Thuwal)
Wadi Al Dawasir
Baha
Arar
Sakaka
Duwadimi
Hawtat Bani Tamim
Hayathim
Muzahimiyah
Quwayiyah
Qurayyat
Ras Tannurah
Tabarjal
Majmaah
Nuayriyah
Qatif
Rafha
Safwa
Yanbu
Zulfi
Uyun
Turaif
Buqayq
Hafar Al Batin
Jubail
Abu Arish
Ahad Al Masarihah
Baish
Al Lith
Samtah
Al Badai
Al Qunfidhah
Shaqra
Al Aflaj
Red Sea Project(RSP)
Duba
Al Khafji
Rabigh
Al Bukayriyah
x
5G is the Fifth generation of mobile communications technology, a step change that implies more capacity, faster speed and lower latency. 5G is not only about faster connections, 5G can give people the ability to do more and make things better.
5G opens doors for new applications such as Virtual reality, augmented reality, Autonomous driving and much more.

Zain offers the most competitive 5G plans in KSA, absolutely the best value for money.
Zain 5G Network was built to ensure a wide coverage across KSA providing ultra-fast speeds and lower latency, for more details check our 5G Coverage Areas

5G networks are designed to carry data up to 10 times faster than 4G networks

Latency is the time it takes between a command and its expected action. For instance, high latency can cause delay in video calls, or affect your online gaming experience (i.e. ping). 5G customers will experience a reduced latency that is nearly comparable with wired services.