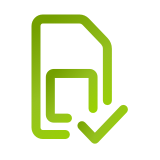 HOW TO ACTIVATE eSIM
By Scan QR-Code, customize your experience based on your needs (Business, Personal, Data Only, Data and Voice).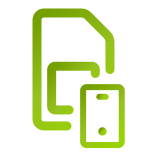 eSIM CAPABLE DEVICES
Apple 
Huawei
Samsung
Google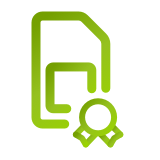 eSIM BENEFITS
Easy to activate an eSIM.
Multiple numbers on the same device.
Keep Work at Work.
Customize your experience.
What's an eSIM?
Embedded SIM (eSIM) is just a physical SIM gone digital. Like a physical SIM card, an eSIM provides your connection to the Zain network.
An eSIM is built into your device just activate it with your account information rather than inserting a physical SIM.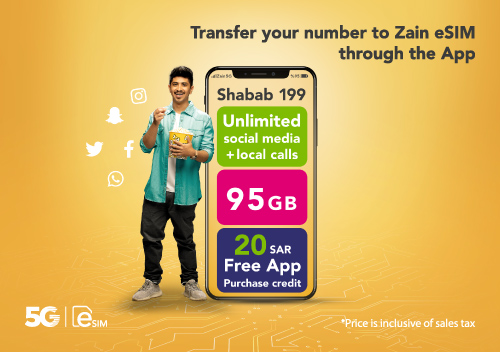 Shabab 199 Package228.85 SAR
/ per Month
Available in Mobile App Only
(15% VAT inclusive)
---
Unlimited Social Media + local minutes
95GB Data
20 SAR App credit
eSIM Monthly Package113.85 SAR
/ per Month
Available in Mobile App Only
(15% VAT inclusive)
---
Unlimited local minutes
40GB data
20 SAR App credit
eSIM weekly package33.35 SAR
/ per week
Available in Mobile App Only
(15% VAT inclusive)
---
Unlimited local minutes
5GB data
5 SAR App credit
What are the compatible phones?

Some eSIM compatible phones like the iPhone 12, iPhone 12 PRO, iPhone 12 Mini, iPhone 12 PRO Max , iPhone XS, XR, XS Max,11, 11 Pro, and 11 Pro Max, iPhone SE 2nd Gen, Samsung S20, S20 Plus and S20 Ultra, Note 20 Ulta, Huawei P40 and P40 PRO, are also DSDS (Dual SIM Dual Standby). DSDS compatible devices can accommodate both an eSIM and a physical SIM so you can have two wireless accounts with talk, text, and data on one device.

iPad PRO 11-inch (2nd generation)
iPad Pro 12.9-inch (4th generation)
iPad Pro 11-inch (1st generation).
iPad Pro 12.9-inch (3rd generation)
iPad Air (3rd generation)
iPad (7th generation)
iPad mini (5th generation)

How can I activate an eSIM?

Download

Zain Application

and go through activation steps.
Activate your eSIM through website.
Visit the nearest Zain shop to activate a line on an eSIM.
If customer already has a Zain line and would like to replace your physical sim to eSIM, customer has to visit Zain's nearest shop.

Download your eSIM settings

1- Make sure the device is connected to the internet via WiFi.Mobile Data.

2- Settings, then Cellular.

3- Select Add cellular plan.

4- Open and point your camera at the QR code on your eSIM activation card until you see installing cellular plan.

5- All set! Your eSIM is now downloaded and installed.

eSIM Packages business rules

ESIM packages are exclusive for digital channel.


The customer cannot use data when the free package benefits are depleted. However, the customer can purchase additional internet addons.


To renew the weekly eSIM package, the customer must send ESW to 959


Customer is able to migrate from the eSIM packages to any of Zain's postpaid packages.


Weekly eSIM package is not renewed automatically.


Monthly eSIM package is renewed automatically.


| Current Plan | New Plan | Activation code |
| --- | --- | --- |
| eSIM Weekly | eSIM Monthly | ESM |
| eSIM Weekly or eSIM Monthly | Shabab 149 | S149 |
| eSIM Weekly or eSIM Monthly | Shabab 199 | S199 |
| eSIM Weekly or eSIM Monthly | Shabab 299 | S299 |
| eSIM Weekly or eSIM Monthly | Shabab 399 | S399 |

**To subscribe send code to 959

What smartphones are compatible with eSIM?

To date, iPhone XS, XR, XS Max, 11, 11 Pro, and 11 Pro Max, Samsung S20, S20 Plus, S20 Ultra, Huawie P40 and P40 PRO are compatible with the eSIM solution iPhone 12, iPhone 12 PRO, iPhone 12 Mini, iPhone 12 PRO Max , Note 20 Ulta.

iPad PRO 11-inch (2nd generation)
iPad Pro 12.9-inch (4th generation)
iPad Pro 11-inch (1st generation).
iPad Pro 12.9-inch (3rd generation)
iPad Air (3rd generation)
iPad (7th generation)
iPad mini (5th generation)

Samsung devices will support soon.

Can I use the same rate plan on eSIM as I do for a physical SIM?
Can I keep my current rate plan when I move to eSIM?

Yes! Customer can activate a new line of service for your smartphone's eSIM, you will have the same plan choices they would for a physical SIM. In addition, customer can switch to eSIM while keeping the same plan.

Does this mean that we have customer information stored somewhere

No, Zain does not store personal data. When a customer needs to replace an eSIM, we are re-issue a new eSIM.

Can a customer get eSIM packages from branches?

No, eSIM packages are exclusive for digital channels, which they can activate using Zain app and Zain website. However, the customer can get the eSIM feature from branches on other packages.


What happens if the customer accidentally deleted the eSIM?

You can easily re-register your eSIM profile by scanning your eSIM QR code in the device set up.

How many eSIMs can the customer store on his device?

Customer can store more than one eSIM on his device, but you can only use one at a time and the customer can switch.

How can the customer switch between eSIMs?

By doing the following
Settings> Cellular> Cellular Plans

Does Zain's eSIM support WiFi-Calling?

- Yes, all Zain's eSIM support WiFi-Calling.
- WiFi-Calling enable you to make voice call and SMS through a WiFi connection. In your living room or hotel room, at home or abroad.
- All on your existing subscription, as if you were in KSA with no roaming charges.
- To know more about Zain WiFi-Calling, Click here

After I added my Secondary eSIM, "My Number" of the eSIM does not appear under Cellular Plans on my iPhone?

- In order to get "My Number" shown on the Cellular Plans, please add the number in the iMessage.
- Go to Settings -> Messages -> Send and Receive -> Select the eSIM number.
- "My Number" will appear now under Cellular Plans.

- App Credit gives you free credit that can be used on your Apple App Store, Google Play Store or Huawei App Gallery apps purchases or subscriptions.

- For example, if you subscribe to Apple Music with a monthly subscription of SR 19.99. You can use your monthly SR 20 App Credit to pay for it.

- To enjoy this benefit, please define your Zain line as the payment method in Apple Play Store or Google Play Store by following the steps in the below link: